I recently visited Hibiscus Camp, a garden resort located in the mountain village of Consocep in Tigaon, Camarines Sur. Perched on the slopes of Mount Isarog, the camp boasts a stunning view of Lake Buhi, Lagonoy Gulf, Mount Asog and if the sky is clear, even Mount Mayon. It was definitely one of the most beautiful places I've been in the Bicol Region.
What to do in Hibiscus Camp
The grounds of Hibiscus Camp are vast and full of possibilities. You will be surrounded by plenty of greenery, from trees to tropical plants and everything in between. But the best part for me is the pool, which offers view of the town of Tigaon, Mt. Asog and Mayon Volcano.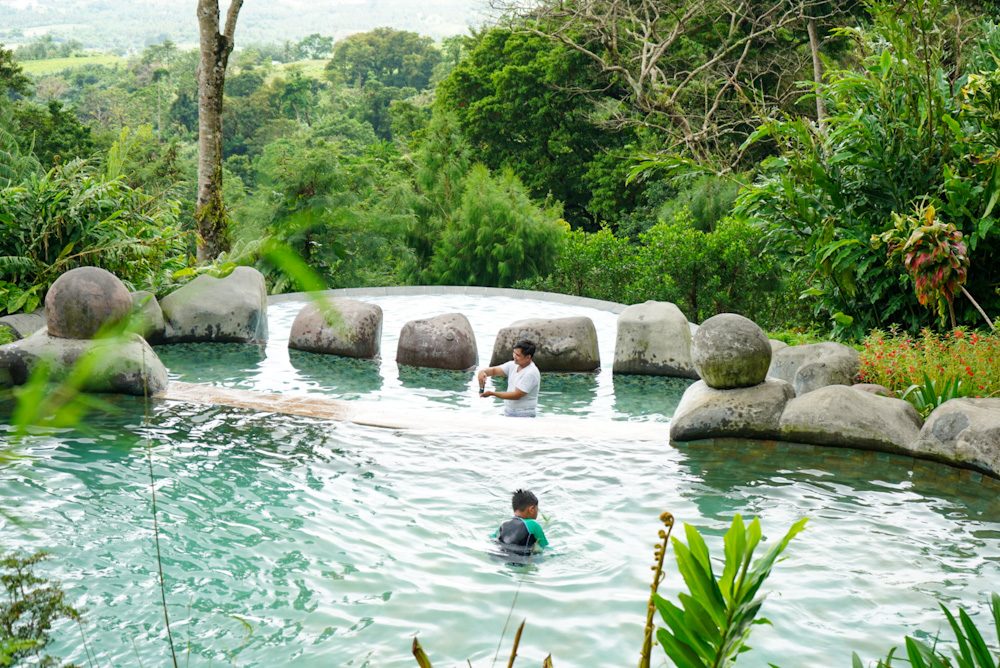 If swimming isn't your thing, there are plenty of other activities to keep you busy. You can hike trails, go to Consocep Falls or visit Ocampo Deer Farm. For me, sitting at the viewdeck while waiting for the rain to fall was one of my favorite experiences. It would have been better if we witnessed the sunset, which the camp is famous for, but that gives me reasons to go back.
Where to Eat in Hibiscus Camp
Although there were no restaurants or coffee shops nearby, visitors are welcome to bring their own food and drinks.
Bring your own Food and Drink
I saw one family having Samgyupsal (pork belly) party at one of the cottages. Also, there was another group cooking Filipino-style Pork BBQ on the grill. Basically, there's plenty of room onsite for cooking and picnicking. Just be sure not to leave any trash behind!
Hibiscus Camp's Tendon Specialty
As for our group, we had the opportunity to sample some of the camp's future offerings. We got to try their version of chicken inasal, sinigang na tendon and stir-fried tofu with tendon, which go so well with steamed rice and their specialty Hibiscus Tea.
Where to stay in Hibiscus Camp
Overnight stay is currently not allowed. However, a day-trip would still be a good option. You can rent a cottage which can easily accommodate your entire family or group of friends. In addition, there are a number of viewdeck overlooking the mountains – perfect for enjoying meals al fresco or simply admiring the beautiful scenery.
There's a 100-peso entrance fee if you wish to enter the camp for a day-tour. Once inside, you'll find restrooms, shower, picnic tables, barbecue grill, and sinks. Cottages for day-use are available from 300 to 1,500 pesos.
How to get to Hibiscus Camp
By Public Transportation
Hop on a bus at the Naga City Bus Terminal, heading for Tigaon/Goa/Lagonoy. When you reach Hanawan in Ocampo, Camarines Sur, take a ride on two wheels to Hibiscus Camp – just let your habal-habal driver know where you're headed and they'll get you there!
By Private Car
From Naga City or Legazpi City, navigate your way over Google or Waze to reach Barangay Hanawan in Ocampo, Camarines Sur. From Anayan, turn right and continue until you spot a "sabungan." Just a few meters ahead, turn left at the crossing. Follow this road for approximately 15-20 minutes until you reach the camp.
Have you been to Hibiscus Camp? How was your experience? Let's chat down below!