In my previous blog posts, I've shared some of our experience in Osaka and Kyoto. Today, I'll share with you how we travelled to Shirakawa-go from Kyoto. This part was the most challenging to plan but it was easier than I expected when we got there. I actually had no idea this village existed if not for Japan Guide website. I was searching for an off-the-beaten path in Japan and Shirakawa-go appeared. I was so amazed with the photos I've seen! I was determined to include this village into our 9-day itinerary.
Where is Shirakawa-go located?
Shirakawa-go is located in northeastern Gifu Prefecture. It is famous for its traditional Gassho-zukuri (thatched roof) houses. The village has remained relatively untouched and was recognized as a UNESCO World Heritage Site.
Did you know? Shirakawa-go is the ancient city that Hinamizawa (Higurashi When they cry) is modelled after. Higurashi When They Cry is one of the most popular Japanese PC games (anime) in the 2000s. In the anime, the fictional city of Hinamizawa is known for curses and murder mysteries.
How to get to Shirakawa-go from Kyoto?
There are various ways to reach Shirakawa-go but we ended up choosing Option # 1. The village can be accessed by bus from two places – Kanazawa to its West and Takayama to its East. Most buses between Takayama and Kanazawa require seat reservations, which should be made in advance by phone or at the bus terminal.

Travel Tip: To calculate train fare, check travel time and train schedule, use Hyperdia.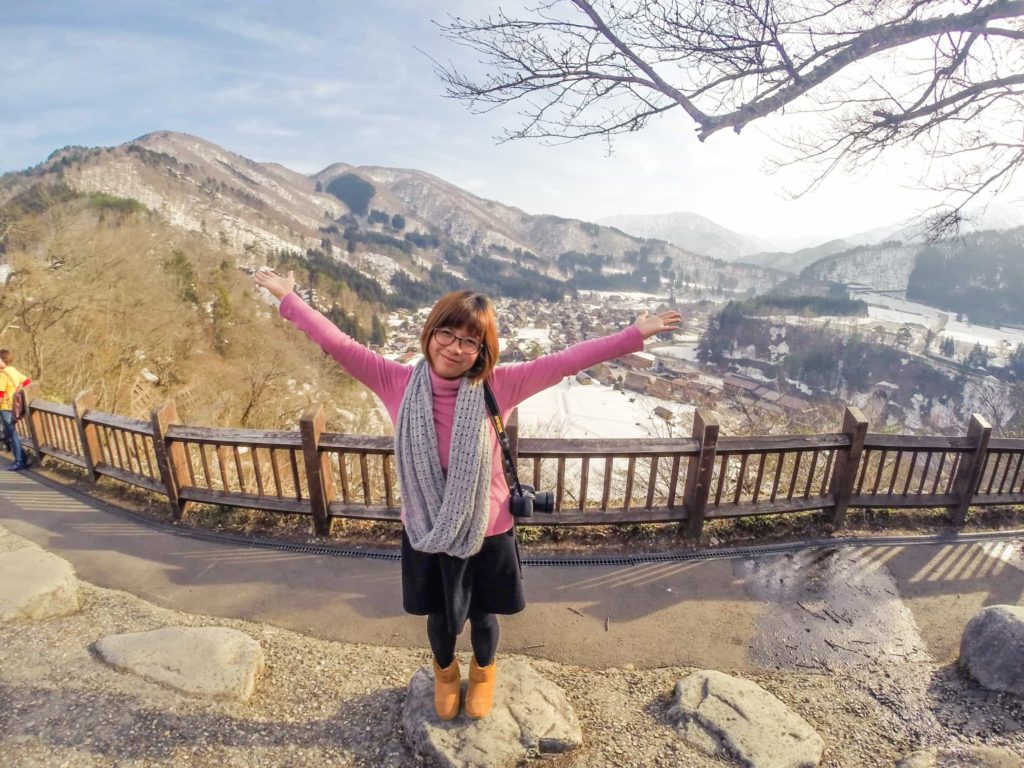 Option # 1 (Kyoto – Kanazawa – Shirakawa-go for JR Pass Holders)
This is the cheapest option because we will only pay for the bus ride going to Shirakawa-go as the train ride is covered by JR pass. This option is also the fastest since there are no train transfers.
In Kanazawa, bus tickets can be purchased from Nohi – Hokutetsu Bus Terminal which is located on the east side of JR Kanazawa Station. We purchased a one way ticket to Shirakawa-go then another ticket to Takayama that we will use the next day.
Kanazawa to Shirakawa-go bus tickets cost JPY 1,850 while Shirakawa-go to Takayama bus tickets cost JPY 2,470
Option # 2 (Kyoto – Nagoya – Takayama – Shirakawa-go for JR Pass Holders)
This option can be done if you plan to explore Takayama before heading out to Shirakawa-go. You need to travel by train from Kyoto to Nagoya, then transfer to Takayama. Train rides are covered by JR Pass. From Takayama Hida Bus Center, located next to JR Takayama Station, you can reserve a bus to Shirakawa-go. Same as Option # 1, you only need to pay for the bus ride to Shirakawa-go.
Option # 3 (Takayama – Hokuriku Pass for Non-JR Pass Holders)
If you don't plan to get a regular JR pass, you can consider the JR Takayama-Hokuriku Area Tourist Pass. This pass provides train access from Nagoya all the way to Takayama and Toyama, and Osaka and Kyoto with Kanazawa and Toyama, as well as on buses to Shirakawago for 5 consecutive days.
The price is JPY 14,260 (50% reduced rates to children aged 6-11), which provides unlimited use of JR Trains in the area covered. Yes, it is not cheap but the amount you will pay for transportation in this area on a 'per ride' basis is significantly more than the price of the pass. All at a fraction of the price of regular JR Pass!
Bus Travel from Kanazawa to Shirakawa-go
The journey to the quaint village of Shirakawa-go was an amazing adventure! Our bus ride through a seemingly never-ending series of tunnels gave me quite a thrill, and I have newfound admiration for Japanese civil engineers having witnessed their impressive mastery in creating efficient networks that traverse difficult terrain. We also had luck on our side – seeing snow even though it was already April! It provided us with a unique opportunity to understand what winter is like here since we were already blessed enough to experience spring elsewhere during our trip.
Day Trip or Overnight Stay in Shirakawa-go
If you want to get the full experience, I highly recommend taking your time and staying overnight in Shirakawa-go! The late afternoon and evening strolls are especially breathtaking. There's truly no way for me to do justice in words – it needs to be experienced firsthand.
If you ever find yourself in Nagoya with limited time, you can still take a day trip to Takayama and Shirakawa-go. 
So, that's about it guys! I hope this guide will prove useful when you plan your trip to Shirakawa-go. Be ready for my picture spam on my next post! And don't forget to share your thoughts in the comment section below! 🙂