Shirakawa-go is situated in northeastern Gifu Prefecture and is famous for its traditional Gassho-zukuri (thatched roof) style farmhouses. The village has remained relatively untouched and was recognized as a UNESCO World Heritage Site. I actually had no idea this village existed if not for Japan Guide website. Seeing winter photos of this old, fairy tale-like world, I was determined to stay overnight and not just settle for a day tour.
What is Gassho-zukuri?
According to Japan Guide, Gassho-zukuri means "constructed like hands in prayer", as the farmhouses' steep thatched roofs resemble the hands of Buddhist monks pressed together in prayer. The architectural style developed over many generations and is designed to withstand the large amounts of heavy snow that falls in the region during winter. The roofs, made without nails, provided a large attic space used for cultivating silkworms.
Accommodation in Shirakawa-go
Yokichi was our third accommodation for our 9-day trip to Japan. Just like the first two guesthouses we stayed at, they won't let us check in earlier but they allowed us to leave our bags. I don't really know if that's the standard in Japan. My friends and I decided to explore the town and eat somewhere to maximize our time in Shirakawa-go.
Staying at one of the Minshuku is a must for the full Shirakawa-go experience. Minshuku overnight stays include traditional Japanese dinner and breakfast made from the freshest local organic ingredients. Traditional Japanese rooms are complete with Tatami (type of mat), Shoji (wooden sliding doors), cushions and futon bedding. Discounted tickets to the local onset (hot spring) are also provided upon check in.
Overnight stay at Yokichi costs 9,000 to 13,000 yen per person, depending on the season. Check availability here.
Shiroyama Viewpoint
The Shiroyama Viewpoint is located north of the village centre and offers a great panoramic view of the village and its farmhouses. The viewpoint can be accessed either by walking (about 15 minutes) or by a shuttle bus for a minimal fee. The schedule of last shuttle bus is at 4:00 PM so at exactly 3:30 in the afternoon we went straight to the bus terminal.
Travel Tip: There are many day trippers in Shirakawa-go so it is best to go to the station early. The Japanese never overloads their buses so if you missed the last shuttle then you have any choice but to walk to the viewpoint, just don't get lost lol 🙂
After our 5-minute bus ride, we reached this one attraction nobody would miss, the Shiroyama Viewpoint. Tourists here would either take hundred selfies or just marvel at the picturesque landscape. The view of the village and the snowy mountain was priceless. My words are not enough to describe it.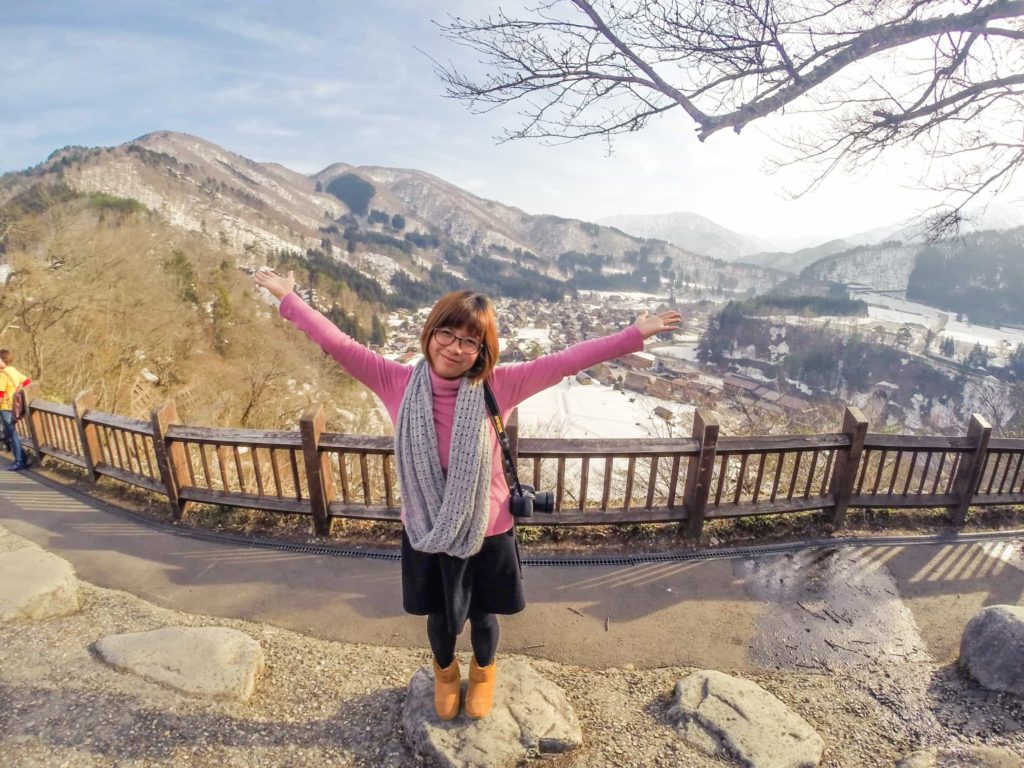 After an hour, we went back to the parking lot. It turned out our bus already left! But I guess it was okay because the walk back to the village was not so far and tiring. We were able to explore the village and we had a glimpse of the lives of the locals after all day trippers departed. Most stores started closing at around 5 in the afternoon. Children were still playing outside. Okasan (Mothers) were cooking for dinner. It was a scene different from other places we have seen in Japan.
In total, we explored the village for about five hours as it was not really that big. There was a lot of down time in between, but it was generally filled with lots of photography, exploring, and pasalubong shopping. We had a beautiful time there and I would totally recommend it to anyone visiting Japan!
How to go to Shirakawa-go?
How to Access Shirakawa-go from Nagoya
How to Access Shirakawa-go from Osaka
How to Access Shirakawa-go from Kyoto
How to Access Shirakawa-go from Tokyo
Check out my other Japan posts
First Published: July 19, 2015