I was recently asked for my recommendations for a 7 days in Japan Itinerary. This sounded like the sort of challenge I could get my teeth into. After all, Japan is my favourite country and I've spent a great deal of time researching destinations that are worth visiting. Putting together my favorite bits to travel around in itinerary form should be no problem at all.
So, this suggested itinerary is for first time travelers who will spend 7 days and 6 nights in Japan, arriving in Osaka's Kansai International Airport and departing from Tokyo's Narita International Airport (or vice versa).
7 days in Japan Itinerary: Highlights
Food trip in Osaka
Wizarding World of Harry Potter in Universal Studios Japan
Feeding deer at Nara Deer Park
Kyoto, the ancient capital of Japan
Cherry Blossom viewing in Tokyo
DisneySea/Disneyland from Tokyo
7 days in Japan Itinerary: Osaka, Kyoto and Tokyo
Day 1 (Osaka)
After your arrival at Kansai International Airport, check in to your preferred hotel/guest house. Book a place near the city center particularly near a train station such as Umeda and Namba districts. This will give you better access to dining options and tourist attractions.
I suggest flying with Jetstar so that you still have half a day to explore Osaka. Cebu Pacific and Philippine Airlines fly in the afternoon from Manila and arrive in Osaka between 7-8 in the evening. If you snagged that super cheap airfare from Cebu Pacific, you already have a day wasted.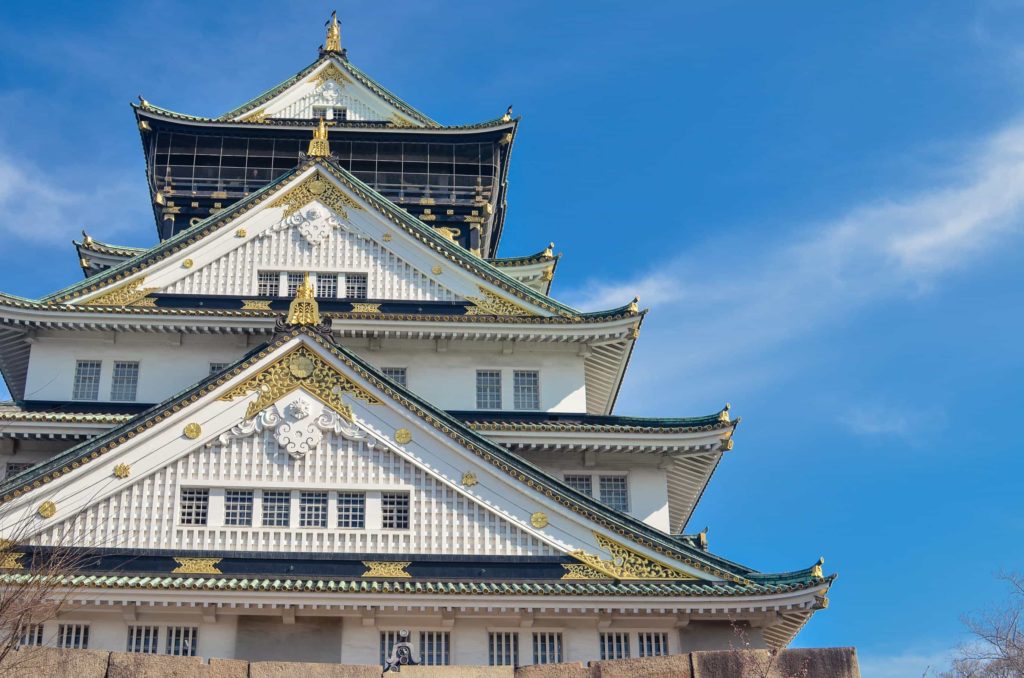 Start your Osaka adventure in the afternoon by visiting Osaka Castle, the castle that was built to be the center of the new and unified Japan. The castle can be accessed on a number of lines; the closest JR station is Osakajokoen Station on the JR Loop Line. Then, visit another attraction before you make your way to Namba Station. Osaka Aquarium, the Tenmangu Shrine and Umeda Sky Building are some of the places you can visit.
Spend the rest of the afternoon/evening in Dotonbori-Shinsaibashi area, the best place to experience Osaka's food culture. The best way to get here is to take the Midosuji Subway line and get off at either Namba station (subway) or Shinsaibashi station.
Where to Stay in Osaka
HOTEL THE FLAG Shinsaibashi
1-18-30 Higashishinsaibashi, Chuo, Osaka, Japan
Mitsui Garden Hotel Osaka Premier
3-4-15 Nakanoshima, Kita-Ku, Osaka, Japan
The Bridge Hotel Shinsaibashi
1-10-24 Nishishinsaibashi, Chuo, Osaka, Japan
Day 2 (Osaka or Nara)
If you are a theme park fan, then you can spend an entire day in Universal Studios Japan. There are plenty of amazing attractions here but the highlight, for me, is The Wizarding World of Harry Potter. To get to USJ, take the JR Yumesaki (aka Sakurajima) line from Osaka Station or Nishikujo Station to Universal City Station.
Another option is a day trip to Nara from Osaka, which is a great way to immerse yourself in the rich history and culture of Japan. The journey to Nara takes about 45 minutes on the JR Rapid train, leaving plenty of time to explore all that this city has to offer. A few notable sights include Todaiji Temple and Horyuji Temple. If you're going to Nara Deer Park, do not pet the deer and do not to feed them with any food other than deer rice crackers (shika senbei).
Day 3 (Kyoto)
Coming from Osaka, you can take JR, Hankyu Rail or Keihan Rail to get to Kyoto Station. Getting around the city is very easy because of its extensive bus network. Though Kyoto also has trains and subway network, I find navigating the city easier when I take a bus. Raku Bus is the city-run public bus in Kyoto, will cover most of your travel needs. Bus No. 100 goes to eastern Kyoto particularly the Higashiyama and Okazaki areas. Bus No. 101 goes its way up the middle of Kyoto to the northern parts of the city. Raku Bus No. 102 goes to the northern part of Kyoto.
Project Gora tip: Purchase a Kyoto All-day bus pass (JPY 500) for unlimited bus ride on Raku and Non-Raku buses. It is more economical than paying for individual tickets because each time you ride a bus, it will cost you a minimum of JPY 230.
Day 3 Itinerary
Ginkakuji Temple
Philosopher's Path
Nanzenji Temple
Yasaka Shrine
Higashiyama District
Kiyomizudera Temple
Want to explore some of Kyoto attractions, such as Kiyomizu-dera, in a beautiful Kimono? Get your Kyoto Kimono Rental here.
Where to Stay in Kyoto
Citadines Karasuma-Gojo Kyoto
432 Matsuyacho, Gojo Karasuma-dori Higashi-iru, Shimogyo-ku, Kyoto 600-8105, Kyoto
Hotel Anteroom Kyoto
7 Aketacho Higashikujo, Minami-ku, Kyoto 601-8044, Kyoto Prefecture
Kyomachiya Ryokan Sakura Urushiteim
Kichimonjicho 425, Shimogyo-Ku, Kyoto, Japan
Day 4 (Kyoto)
On day 4, consider Fushimi Inari as your first destination. Fushimi Inari Shrine is dedicated to Inari, the Shinto God of Rice. The place is famous for its thousand vermilion torii gates along the trail that leads to the forest of the sacred Mount Inari. The best way to access Fushimi inari is by taking JR Nara Line from Kyoto Station to JR Inari station (JPY 140). Travel approximately takes 5 minutes.
Then, make your way to your second destination, Kinkakuji (Golden Pavilion), which is among the many UNESCO World Heritage Sites in Kyoto. It is a Zen temple with two floors completely covered in gold leaf. It was formerly a retirement villa for the family of Ashikaga Shogunate until 1408. Yes, this has been around for more than 600 years. The best way to access Kinkakuji is by going back to Kyoto Station following the same route then take Kyoto City Bus number 101 or 205. Travel approximately takes 40 minutes and admission is JPY 400.
Spend the rest of the afternoon in Arashiyama District. From Kinkakuji, hop on Bus no. 101 and get off at Kitano Hakubaicho Station. Take the Keifuku Electric Railway aka Randen and get off at Arashiyama Station (requires a transfer at Kitabiranotsuji station).
You can also include this only-in-Kyoto experience in your Japan itinerary – Maiko Transformation for women or Samurai Transformation for men.
Day 5 (Tokyo)
Travel from Kyoto to Tokyo via Shinkansen (Bullet Train). Nozomi, the fastest Shinkansen costs JPY 14,110 one way from Kyoto Station to Tokyo Station and travel approximately takes 2 hours and 20 minutes. Hikari, which is slightly cheaper at JPY 13,800 one way, takes a little longer at 2 hours and 40 minutes. The slowest Shinkansen, Kodama costs JPY 13,500, reaches Tokyo in about 3 hours and 50 minutes.
Start your Tokyo adventure by having a Ramen lunch at Afuri Ramen in Harajuku. From Afuri Ramen, head to Meiji Jingu, a shrine dedicated to the Meiji Emperor and his Empress. Despite being situated in the busy area of Harajuku, all the hustle and bustle were cut off the moment you turn right and cross over the 40-foot giant torii gate. The walk through the forest to get to the shrine is very relaxing. Travel from Shinjuku Station of JR Yamanote Line to Harajuku Station approximately takes 5 minutes (JPY 140).
End your day at Tokyo Metropolitan Government Building back in Shinjuku where you can get a glimpse of Mount Fuji under favorable weather conditions. This is also a perfect place for sunset viewing where you can get a panoramic view of Tokyo and beyond.
Where to Stay in Tokyo
The Gate Hotel Asakusa Kaminarimon by Hulic
2 Chome-16-11 Kaminarimon, Taito City, Tokyo
Tokyu Stay Shinjuku
3-7-1 Shinjuku, Shinjuku 160-0022, Tokyo, Japan
The Millennials Shibuya
1-20-13 Jinnan, Shibuya 150-0041 Tokyo, Japan
Day 6 (Tokyo)
If your travel dates happen to be in Spring, specifically Cherry Blossom season, do not miss cherry blossom viewing in Ueno Park, Shinjuku Gyoen, Chidorigafuchi or Sumida Park. If it's Autumn, you can see beautiful yellow ginkgo trees in Marunouchi Gyoko-dori and Yoyogi Park. I also recommend going on a half day trip to Hitachi Seaside Park in Ibaraki. Check out the link to my blog post. I'll let the pictures speak for themselves.
To get to Hitachi Seaside Park, I'd highly recommend taking a train from Tokyo/Ueno. The journey takes about two hours and a single journey ticket costs JPY 4,000. Get off at Katsuta Station and catch the Ibaraki Kotsu Bus going to Hitachi Seaside Park (15 minutes). Admission fee is JPY 410 for adults, JPY 80 for children aged 7 – 14 years and free for children under 6 years. Check out their website for more information.
In the afternoon, check out some of Tokyo's famous destinations like Akihabara, the center of Japan's otaku (diehard fan) culture. Don't miss Harajuku, Shibuya and Omotesando. For dog lovers like me, pay a visit to Hachiko's statue located in Shibuya Station's Hachiko Exit. Another prominent landmark in Shibuya is the large intersection known as "The Scramble".
Day 7 (Tokyo)
On day 7, you can spend a few hours shopping before your scheduled time of departure. Find the nearest Donki (short for Don Quijote), which is one of Tokyo's cheapest supermarkets selling a huge variety of goods. Buy some Japanese snacks like Tokyo Banana, Japanese Rice Cake Mochi Daifuku and Kitkat Matcha (Gren Tea) flavor to take home for your friends and family.
After shopping, head to Narita International Airport and take Narita Express. The regular price costs JPY 3,190 and travel is approximately 90 minutes. A cheaper alternative is Keisei Limited Express which requires one train transfer. From Shinjuku, take JR Yamanote line to Nippori Station (20 minutes, 230 JPY) then transfer to Keisei Limited Express to Narita Airport (about 75 minutes, JPY 1030).
If you have a heavy luggage, you may consider taking the airport limousine instead. Book your Tokyo Narita International Airport Limousine Bus Round Trip Ticket here.
With this suggested itinerary, is a Japan Rail Pass worth it?
The Japan Rail Pass costs JPY 29,110 (roughly USD 281) for 7 days. If you are going round trip to Osaka/Kyoto-Tokyo OR Tokyo-Osaka/Kyoto within a week, then it is more than worth it. If you are going one way (arriving in Kansai and departing in Narita or vice versa), then the pass will not pay off.
I suggest coming up with an itinerary first then calculate your train ticket costs using the JR pass calculator. Get your JR Pass for Whole Japan (7, 14, or 21 Days) here.
Did you like this 7 days in Japan itinerary? Got any questions? Comments? Insights? I'm all ears! Let's chat down below. Arigatou!