If you only have one chance to visit Japan, where would you go? If you're feeling overwhelmed with all the options, then I hope this travel guide with a 9 day Japan itinerary will help you plan your trip. This guide focuses on Shirakawa-go, Tokyo, Osaka, Kyoto, Nara and Nagoya, and can be extended to Hiroshima, Himeji and Kobe for those with extra time.
Note: This is my actual itinerary when I recently visited Japan, so I can attest that the sequence of activities and destinations is really feasible, especially if you have a 7-day JR Pass. The expense breakdown at the end of this post is accurate because I have a travel expense tracker.
How to get a Japan Tourist Visa
Getting a Japanese visa is pretty easy and cheap just choose among the accredited travel agencies of Japanese Embassy. Check out my detailed post on How to Apply for Japan Tourist Visa. I already have a multiple entry visa so I did not need to apply. My friends did apply and they paid 700 pesos, which was a promo from Universal Holidays Inc.
How much is the usual flight ticket to Japan?
Japan roundtrip tickets via Cebu Pacific can go for as low as PHP 2,500 pesos during their Piso fare promos. However, seats were very limited so we weren't able to get tickets from them. We purchased ours with Jetstar, which cost around 5,000 pesos per person round trip without baggage allowance. Not so bad in my opinion.
Where to Stay in Japan?
When looking for accommodations in Japan, I found it very easy to book via Agoda.com. I did encounter difficulty finding an accommodation that's within our budget because we were 6 in the group and most of the hotel listing is good for 2 to 4 pax only. I could have booked with Airbnb but they don't offer rewards/points for every booking, so I chose Agoda. Here are some accommodation options I recommend.
Grids Tokyo Ueno Hotel & Hostel
7-10-4 Ueno, Taito Ku, Tokyo, Japan
&And Hostel Asakusa Kappabashi
1-11-4, Asakusa, Tokyo, Tokyo, Japan
The Bridge Hotel Shinsaibashi
1-10-24 Nishishinsaibashi, Chuo, Osaka, Japan
Nagoya Travellers Hostel
4-8-10, Sakae, Naka-ku, Nagoya-shi, Sakae, Nagoya, Japan
Do I need a JR Pass?
The Japan Rail Pass costs JPY 29,110 (roughly USD 281) for 7 days. This expensive pass will enable you to explore the whole of Japan without buying single-journey tickets. If you're trip looks like this, Osaka-Tokyo-Osaka or Tokyo-Osaka-Tokyo, then it is more than worth it. If you are going one way (arriving in Osaka and departing in Tokyo or vice versa), then the pass will not pay off.
My 9-day Japan Itinerary
Day 1: Nagoya to Shirakawa-go
Day 2: Fuji Shibazakura Festival and Tokyo City Tour
Day 3: Whole Day Disneysea
Day 4: Hitachi Seaside Park
Day 5: Nara and Osaka City Tour
Day 6: Hiroshima, Himeji Castle and Kobe
Day 7: Kyoto
Day 8: Nagoya
Day 9: Nagoya
Day 1: Arrival at Nagoya; Travel to Shirakawa-go then to Tokyo
Shirakawa-go is a place that I would want to go back to again and again. Since my travel buddies were first-timers in Japan, I included Shirakawa-go in our itinerary so they could get a wonderful glimpse of a Japanese village hidden in Central Japan. We could have stayed overnight, but our budget and time were very limited, so we opted for a day trip from Nagoya.
After our day trip, we took the Nohi Bus to Toyama Station. Then, we boarded the Hokuriku Shinkansen, the highspeed bullet train that connects Tokyo, Toyama and Kanazawa. Great news for JR Pass holders! Both the Hakutaka and Kagayaki bullet trains are covered by the pass.
Things to do in Shirakawa-go:
Overnight stay in a Minshuku, Japanese-style bed and breakfasts
Go up to the Shiroyama Observation Deck
Visit Kanda House
Visit the Myozenji Temple and Myozenji Museum
Visit the Gassho-zukuri Minka-en Museum
Travel Tip: As you would expect, Shirakawa-go is very busy/touristy. You may want to stay overnight in one of the Gassho Zukuri farmhouses and get there as early as you can. There will be crowds at any time of day, but you will be able explore the place all to yourself once the tour groups have departed late in the afternoon. Staying overnight is a sure way to beat the crowds.
Shirakawa-go related posts:
Overnight at a Gassho-zukuri Farmhouse in Shirakawa-go
My first Onsen Experience
How to access Shirakawa-go from Kyoto/Osaka
Shirakawa-go daytrip from Nagoya then Tokyo
Day 2: Fuji Shibazakura Festival and Tokyo City Tour
We headed to Fuji Five Lakes area on our second day in Japan. It was a beautiful, sunny day and there was a festival, which was Fuji Shibazakura (Moss phlox). This festival is one of the best and most popular festivals in Japan, which allows visitors to see shibazakura. Aside from views of vast fields of shibazakura, you could also get an amazing view of Mount Fuji on clear days, that is if you have enough luck credits. Too bad for us, Mount Fuji did not show up and it was already the last day of the festival. So naturally, we did not get to see many shibazakura.
For hassle-free access to Mount Fuji from Tokyo, avail your tours here.
Tokyo Fuji Shibazakura, Mt. Fuji 5th Station & All-You-Can-Eat Strawberry Picking Day Tour
We headed back to Tokyo in the afternoon to explore the chaotic but fun districts of Harajuku and Shibuya. We had three nights in the city so we tried to pack in as many "Tokyo experiences" as possible into that time. We crossed Shibuya Crossing, the world's busiest intersection, multiple times. We went shopping around the district and we also had one of the best ramen I've ever had in Japan, which was Afuri Ramen in Harajuku.
Day 3: Tokyo Disneysea
Ever since I was a young little girl, one of my greatest dreams was to go to Disneyland. I wanted to meet Mickey Mouse. Disney films and television programs, which showed colourful and adorable characters have been the main reasons why I would love to go to Disneyland. As I got older, my fondness for Disney somehow faded. I was no longer a little girl and it seemed ridiculous to actively pursue my Disney dream. Good thing, my travel buddies would like to go to Disneysea Tokyo, so I have decided to include it in our itinerary! It was such a great feeling to finally realize my childhood dream.
For hassle-free and easy Disneysea and Disneyland ticket purchase, avail your tickets here.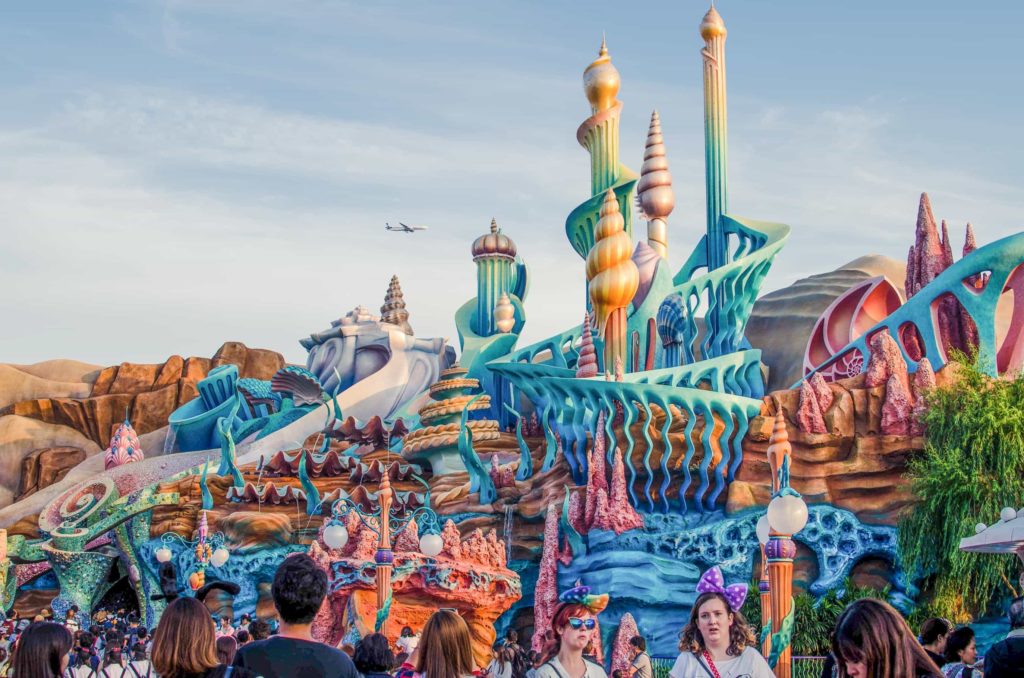 Things to do in Disneysea:
Tower of Terror – a free-fall thrill ride which we didn't expect to be so extreme! We actually thought it was just another horror house because we could not understand the Japanese story/instructions
Journey to the Center of the Earth
20,000 Leagues Under the Sea
Indiana Jones Adventure: Temple of the Crystal Skull
Fantasmic – the Disneyland musical and pyrotechnics show set in the Mediterranean Harbour with the beautiful Mount Prometheus in the background
Travel Tip: You can't possibly explore and try all the attractions in Disney in just one day. There are just too many people! So, do yourself a favor and buy the Disney's Fastpass, a system that lets you minimize the amount of time waiting in line at certain attractions. We should have purchased this, so we could try as much rides as we would like.
Day 4: Hitachi Seaside Park; Travel to Osaka
Hitachi Seaside Park is a sprawling 200 hectare flower garden located in Hitachinaka, Ibaraki, Japan. It features vast flower gardens including 170 varieties of tulips, millions of narcissuses and nemophilias, each will rotate its full bloom throughout the year, so there is always something for you to enjoy. We went during the late spring, so we were able to see the garden with thousands of roses in full bloom. We were too late for the tullips and other flowers but this garden made our day trip so worth it!
If you are planning a day trip to Hitachi Seaside Park, I'd highly recommend taking a train from Tokyo/Ueno. The journey takes about two hours and a single journey ticket costs JPY 4,000. Get off at Katsuta Station and catch the Ibaraki Kotsu Bus going to Hitachi Seaside Park (15 minutes).
In the afternoon, we went to Shinagawa Station, a major railway station in Tokyo, where we will board a bullet train going to Osaka. We had ramen dinner at a random ramen place. The ramen was incredibly good, too bad I could not recall the name of the place.
Day 5: Nara and Osaka City Tour
We woke up a bit late on day 5, so we decided to explore Nara instead of Kyoto. Nara, Japan's first permanent capital, is home to many historic treasures as well as to hundreds of freely roaming deer. According to local folklore, the deer from Nara area were considered sacred. Considered a messengers to the gods in the Shinto religion, the deer are surprisingly tame, although they can be aggressive if they think you will feed them or if you get too intrusive.
Things to do in Nara:
Visit the Todai-ji Temple, home of the famous Daibutsu (Great Buddha)
Roam around Nara Deer Park
Visit Kofukuji, One of Nara's World Heritage sites
Explore the Isuien Garden, a traditional Japanese garden near Todaiji
In the afternoon, we went back to Osaka to explore Osaka Castle and Dotonbori. It was already my second time in the city and yet, I would always want to go back to Osaka Castle. Although it was just a reconstruction, I would always be fascinated with its history.
When Oda Nobunaga attempted to unify Japan during the Sengoku era (warring states period), and his successor Toyotomi Hideyoshi completed the reunification of Japan, many castles were built across the country. One of them was Osaka Castle, a castle built in the order of Toyotomi Hideyoshi. It was one of the grandest castles in the country, which symbolizes his power and wealth.
Day 6: Hiroshima, Himeji Castle and Kobe
I have already been to Nagasaki last year, so naturally Hiroshima was a clear choice for our next destination. The city is a favorite side-trip destination from Osaka or Kyoto, which can be combined with other cities like Himeji and Kobe. On day 6, we had to wake up early to catch the bullet train from Osaka Station to Hiroshima. From the station, we boarded the Hiroshima Sightseeing Loop Bus, which is free of charge if you have a JR Pass. Yehey!
In the afternoon, we boarded another bullet train going to Himeji Castle, the most beautiful and the finest surviving example of early 17th-century Japanese castle architecture. I've always wanted to go to Himeji, but for some reasons, I never had the chance. I guess third time's the charm. 🙂 We waited until dusk so we could see Himeji Castle lighted-up. It did not disappoint, and we were pleasantly surprised because only a few other tourists were in the castle grounds. No photo bombers for us!
In the evening, we boarded a local JR train to Kobe, home to the famous Kobe Beef. We arrived at around 8:30 in the evening and most of the Kobe beef restaurants were already closed. 🙁 Good thing, we found one near Kobe Station. It was the most expensive meal I've ever had so far, but the one of the most delicious I've had in Japan. Kobe Beef truly lives up to its impressive reputation.
Day 7: Kyoto; Travel to Nagoya
One of the most visually spectacular destinations in Japan is Kyoto, the ancient city known for its temples and shrines. There are plenty of sightseeing spots and activities that are definitely worthy of recommendation of locals and frequent travelers, so deciding where to go and what to do in just one day can be challenging.
We started very early but we weren't able to visit as much attractions as planned. We managed to visit Arashiyama, Fushimi Inari and Kiyomizudera, which are some of the most famous attractions in the ancient city. In the evening, we had to travel to Nagoya, where we will stay for the rest of the trip. Our JR passes expires on the 7th day, so it was our last chance to ride a bullet train without paying extra.
Travel Tip: Fushimi Inari and Arashiyama can be really busy with people coming to photograph it. I'd recommend visiting as early as possible or just be patient and plan to wait for a gap in the crowds. You might be there a while but it's worth it for the perfect Instagram photo! If all else fails, you can always use the Content Aware feature in Adobe Photoshop to remove photobombers. Lol!
Day 8 and 9: Nagoya
If you love shopping then you probably know that Japan is a shopping paradise. When I first traveled to the country, I had this impression that Japan is an expensive shopping destination. But at that time (2015), the Japanese Yen is weak so our money went a long way. Last year, when I travelled solo, I was not able to buy many pasalubongs because the yen has recovered. This year was the same.
I never really meant to shop in Nagoya, but we found plenty of cheap places to shop. Asbee, one of the most popular shoe stores in Japan, was on sale when we were in the city. We found Keds shoes, limited and original designs, for as low as 1,000 yen or around 450 pesos! Insane, right? They also carry plenty of popular brands such as Timberland, MadFoot, Coleman (yes, they have shoes and sandals in Japan), New Balance, Nike, Adidas, Converse, Keds, Puma, Reebok, Asics, Skechers, DC Shoes, Coleman, Dickies and Lee shoes.
Japan Trip Expenses
If you're curious how much I spent, you can check out my excel file right here. In total, I spend 49,456 pesos inclusive of everything except JR Pass. If I will include the JR Pass, I would have spent around 62,800 pesos. Not that much considering all the places we have visited and the length of our stay. I also did not scrimp on food because it would be too depressing if I did. Japan's home to one of the best cuisines in the world, so I'd rather spend a little extra to enjoy it. After all, food is an integral part of every culture.
So, there you have it! I spent a lot of time researching and planning for the perfect 9-day Japan Itinerary, so I hope this will help you save some time when creating your own Japan trip. I hope you find it useful, and do feel free to add your own Japan tips in the comments section. Do you have any questions? Suggestions? Let's chat down below! 🙂