A trip to Iloilo won't be complete without going on an island-hopping adventure in Carles, home of Cabugao Gamay, the icon of Gigantes Islands. I first visited five years ago when it was starting to get popular among local tourists. I remember lots of boats were docked on the shore. Pre-pandemic, it's likely that you will be competing with crowds for space here.
Now, during pandemic, it doesn't get crowded and only a few tourists would venture here at the same time. When I visited last February, only two groups of tourists were in the island. It was nice to see the island in its peaceful and relaxing state. However, I'm hoping that the pandemic will be over soon so that the community, who are closely tied to tourism, can get back to their previous livelihood.
If you're planning to visit Gigantes Islands, use this travel guide to help plan your perfect trip to Iloilo.
About Gigantes Islands
Gigantes Islands is probably one of the most diverse destinations in the Philippines. Located in the northernmost municipality of Carles, Iloilo, it is known for its rich marine and coastal resources, limestone karst and caves, beautiful beaches, and long-stretch of sandbars. With 10 islands and islets, there is something for every kind of traveler.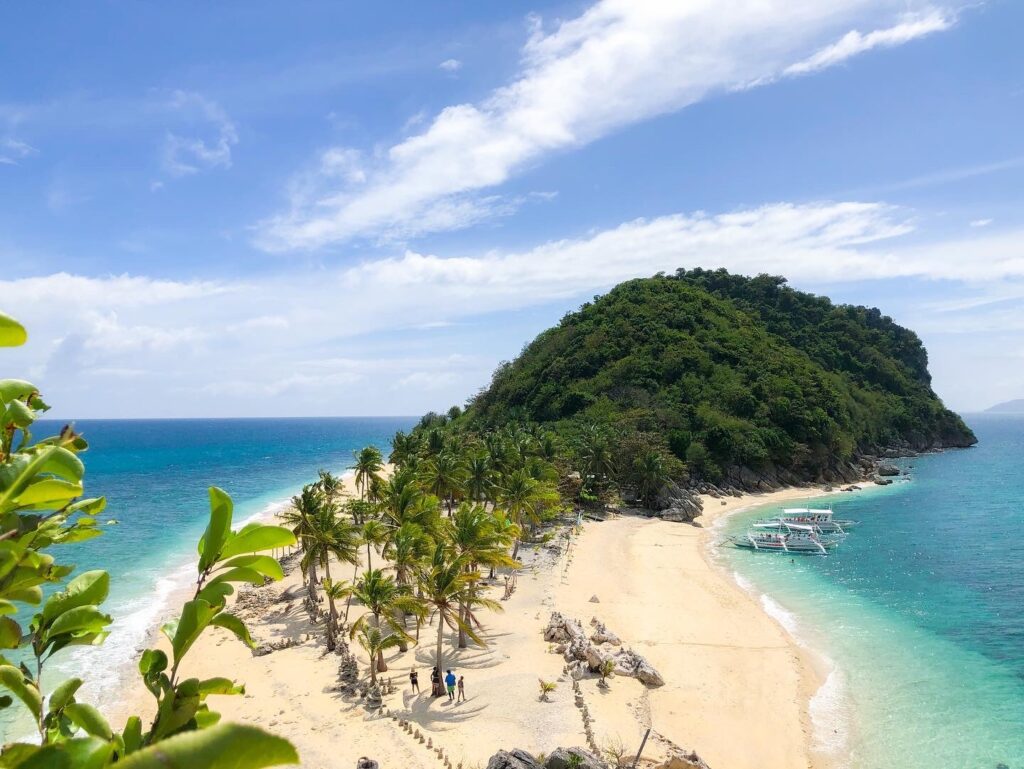 You probably know this already but Gigantes Islands is said to be the Scallops Capital of the Philippines.
If you haven't been to Carles, you are definitely missing out! Gigantes is an ideal place to visit for seafood lovers. Some local specialties include crabs, shrimps and different kinds of fishes, which are fished from right off the coast. The island is known particularly for its scallops that abound in the deep waters.
Although fisherfolks sell scallops for only 1 peso per piece, I suggest paying extra because scallops aren't easy to collect. Let's thank them for giving us a chance to sample fresh seafood.
Top Tourist Spots in Gigantes Islands
The main tourist spots in Gigantes Islands can be visited in one whole day, but I highly suggest to allot two days for island-hopping. Majority of island tours in Gigantes includes visit to all famous tourist spots but only about 30 minutes per destination is allowed.
Cabugao Gamay Island
Cabugao Gamay is the crown jewel of Gigantes Islands, thus it is the most photographed of all islands. The viewing deck located on a hill on the northern end of the island is where thousands of photographs were taken. Do not miss to go there because it offers the most picturesque view of the whole Cabugao Gamay and the sea.
Take as many photos as you like in the viewing deck but do not forget to explore the rest of the island. The center portion has cluster of coconut palms, which provide excellent shade if it's too hot. The gorgeous white sand beach on the island is not to be missed as well.
Tangke Saltwater Lagoon
Tangke Saltwater Lagoon is where you will see a bit of El Nido or Coron in Gigantes Islands. The lagoon with brackish body of water surrounded by massive limestone rock formations look exactly like the ones you see in Palawan. This is a popular tourist spot so you will probably share it with many people. If you are on a private tour, you can request to go here before the tour boats arrive to appreciate the beauty of the place more.
Bantigue Island
Bantigue Island is another popular lunch stops in Gigantes Islands. Know for its long and wide golden sandbar, the island is only about 5 minutes away from Cabugao Gamay. If you're on a private tour, you can request to go to Bantigue Island in the late afternoon. I swear the sunset view here is amazing!
Antonia Beach
Antonia Beach is actually my second favorite destination in Gigantes Islands. Almost the same feature as Cabugao Gamay, there are massive rock formations at the southern end and coconut palms lining the center of the beach. Although this is a popular lunch stop, do not miss to swim here because the water is so clear. If you can, stay overnight at one of the tents. I have no doubt the sunset and sunrise views here are divine!
Antonia Beach is sometimes referred to as Antonia Island. This is incorrect because it is actually part of Gigantes Sur.
Pulupandan Islet
Pulupandan Islet reminds me a bit of Naked Island of Siargao. A lone coconut tree is standing in the middle, but for the most part, this sandy and rocky islet in the middle of the ocean is bare. There isn't anything to see on this islet at all, but I think that is the beauty of it.
Gigantes Norte Island Lighthouse
Gigantes Norte Island Lighthouse isn't part of the usual island hopping tour and would be something you can request for private tours. If you're a fan of landscape photography, you have to visit this place in the afternoon. The sunset view and entire place look epic!
Gigantes Islands Travel Guide: Things to know before you go
Iloilo Travel Requirements
As July 15, 2022, Iloilo will accept vaccination card or vaccination certificate from fully vaccinated tourists in lieu of a negative RT-PCR or Saliva Test result. Negative RT-PCR result valid within seventy-two (72) hours prior to departure is still required for individuals who have been partially/fully vaccinated of COVID-19 vaccines.
Note: The travel requirements stated in this Gigantes Islands Travel Guide will be updated from time to time. Please check the latest announcements of the LGU to get the most up to date information.
Best Time to Visit Gigantes Islands
The Philippines has two main seasons – the dry season (November to April) and the wet season (May to October). The dry season is by far the most popular time for travel for tourists. Although the wet season doesn't mean everyday downpours, I suggest to travel during dry season in Gigantes Islands to better enjoy island-hopping activities.
How to get to Gigantes Island from Manila
Via Roxas City
The fastest way to get to Carles from Manila is via Roxas City, the main gateway to the Province of Capiz. Although Carles is part of Iloilo, this municipality is closer to Capiz so it's better to go this route if you don't have time for long travels. It will take less than an hour from Manila to Roxas City by plane. From Roxas City Airport, take a tricycle to the bus terminal. Then, take a bus (Ceres Bus) or a van going to Carles. Travel time is around 1.5 hours.
Via Iloilo City
From the Iloilo International Airport, take a taxi to Tagbak Bus Terminal in Jaro. From there, take a bus (Ceres Bus) or van bound for Carles. Travel time is about 3-4 hours.
Once in Carles Bus Terminal, take a tricycle to Bancal Port, where a tourism office is set up to facilitate island-hopping tours for tourists. If you booked an accommodation in Gigantes Norte Island, you can board the passenger boat which leaves at 10 AM daily. Travel time is about 1 hour and 30 minutes and one way fare is 100 pesos. The same boat leaves Gigantes Norte Island daily at 2 PM from Langob Beach back to Bancal Port.
Where to Stay in Gigantes Islands
On my first visit in Gigantes Islands, my friends and I stayed at one of the homestays in Gigantes Norte. It was super basic but the local family who hosted us were great! I would highly recommend staying at one of these homestays if you are on a budget or just want to experience local culture.
On my second visit, our group stayed at Solina Beach and Nature Resort for two nights. I would personally recommend it if you prefer a beachfront accommodation and resort amenities like pool, breakfast buffet and massage service. Do not miss to catch the sunset and order cocktails after a whole day of island-hopping. Overnight rate ranges from 3,000 pesos to 10,000 pesos, depending on the type of room, number of guests and season.
Where to book Gigantes Islands Tour?
Here's a travel tip for you. Since private charters are expensive (8,000 pesos per boat), join an island-hopping tour for two consecutive days. Yes, it will be the same itinerary, same food and same cost. But if you do this, you can do all your picture taking on the first day and then enjoy and savor the sights the next day.
The joiners day tour rate of Gigantes Islands Tours and Services is 999 pesos per person. This includes lunch (unli scallops yey!), island hopping (5 islands), tour guide fee, environmental fee, and all entrance fees. Tour starts at 9 AM and ends at 4 PM.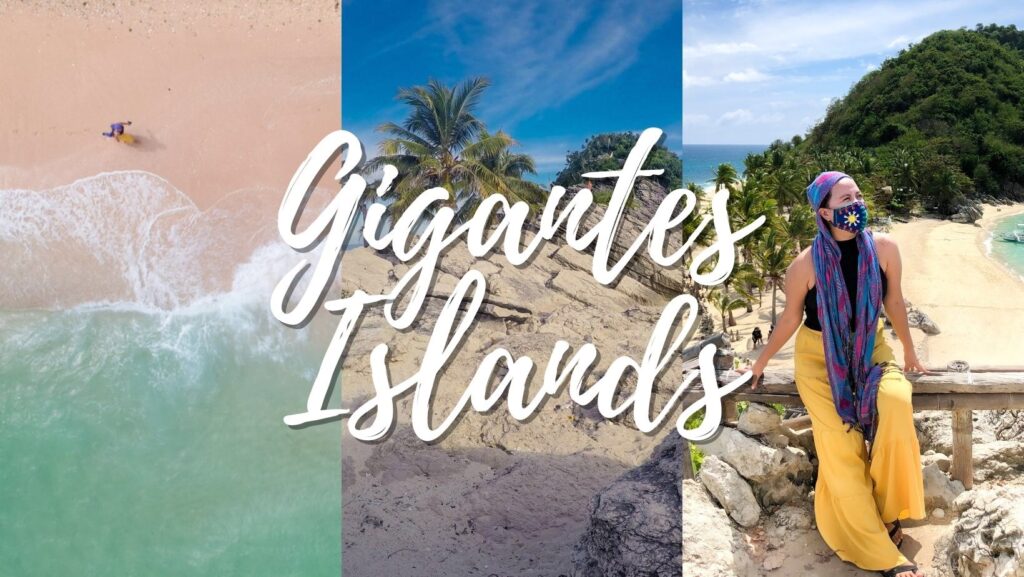 I want to hear from you!
Even though I have visited Iloilo Province three times and I was able to visit most of its famous attractions already, there are still so many that I have yet to see. So if you can give suggestions on where to go next, that will be appreciated!
Have you been to Gigantes Islands? Or are you planning to visit soon? Leave your comments below!
Special thanks to Tourism Promotions Board (TPB) for inviting me to be part of #PTIPPanayIsland! Thanks to Department of Tourism – Western Visayas (Region 6) for the warm welcome and for showing me the beauty of Iloilo! Padayon!
Save this article on Pinterest for later!