Planning to join a food tour in Istanbul? Then you have come to the right place! Check out my experience with one of the best food tour providers in Isntabul!
Just a little background about my country, the Philippines. Some say it is considered as the odd one out in Southeast Asia. Aside from its Hispanic culture and religion, Filipino cuisine is simply different. Our food is very straightforward; we mostly rely on salt, garlic, soy sauce and vinegar. We do not use spices and coconut milk that often compared to our neighbors. The basic traditional Filipino meal consists of two essential things: kanin (steamed rice) and ulam (main dish). If your ulam is dry (anything fried), then you would have a separate bowl for soup. That's it. Kinda boring? Sometimes.
So, imagine my wide-eyed fascination when I was served a traditional Turkish breakfast on my first day in Turkey. For Filipinos, it's the Silogs (Tapa, Longganisa or fried fish with fried eggs and fried rice). But for Turkish, the breakfast consists of simit, cheese (preferably white cheese), home-made jams, olives, eggs, tomatoes, cucumbers, börek, and soups. Seriously, it's always a feast and always worth getting out of bed for!
Because I was so amazed with Turkish breakfast (Turkish food in general), I decided to join a food tour in Istanbul. I've chosen the Spice Bazaar and Kadikoy Food Market Tour by Turkish Flavours because it's one of the best food tours in Istanbul according to online reviews. Wandering around the 17th century Spice Market and Kadıköy on the Asian side of Istanbul with spice and food tasting plus a gourmet lunch at Istanbul's best-known restaurant – I was sold!
Our call time was at 9:15 in the morning so my friend and I woke up at 7:30. From Taksim Square, the closest station to our hostel, we took the funicular to Kabatas and the tram from Kabatas to Eminonu. Just a little walk from the tram station and we immediately found the entrance to the Spice Bazaar. At exactly 9:15 our tour guide, Taci (pronounced Taji), found us. She asked if we had breakfast (so she could assess how much she'll feed us?) and we said no. I explained that we purposely skipped breakfast so we could try everything.
Part 1: Spice Bazaar, European Side
Before we entered the Spice Bazaar, our group wandered around the outdoor market where there were produce stalls selling huge selection of dried fruits and vegetables, massive blocks of local cheeses, and overflowing baskets of fishes and other seafoods. Deeper into the narrow lanes of the outdoor market, we found several stalls selling all kinds of household supplies from baskets to Turkish coffee pots. As we walked from stalls to stalls, we ate Börek and Tulumba which Taci bought for us. Halfway through the market, she also bought us fresh Pomegranate juice, which I absolutely loved!
Then, we made our way inside the Spice Bazaar. My friend and I were both amazed with all the stalls selling vividly coloured spices, jewel-like Turkish Delights, dried fruits and vegetables, herbal teas, candies and chocolates, and a lot more. Walking through the market with an expert guide like Taci, we would definitely feel overwhelmed and confused if we had come on our own. How would you know if you're buying low-quality spices or imitation Turkish saffron?
The highlight of our Spice Bazaar tour was Hayfene, a brightly-coloured spice shop selling all kinds of herbal teas, Turkish Delights, spices and chocolates. Launched in 2014, the brand Hayfene is actually under Ucuzcular Baharat's umbrella which had been in the business for over 130 years. Ucuzcular is an institution and certainly one of the most important spice sellers of Spice Bazaar.
The manager of Hayfene took us around the shop while we finish each of our customary glasses of Turkish Tea. He introduced many different types of herbal tea and explained their benefits to the body. He also let us try different spices and explained which particular spices work best with certain food. We also get to try traditional Turkish Delights and the fancy ones, chocolates and dried fruits. This special tasting tour by Turkish Flavours made me appreciate spices as well as businesses like Hayfene, which strives to continue their family traditions for generations.
Our Spize Bazaar tour ended at around 12:00 in the afternoon, with us carrying shopping bags from Hayfene. Looking back, I wish I had purchase more spices, Turkish Tea and Turkish Delights.
Part 2: Kadıköy Market, Asian Side
We boarded the ferry across the Bosphorus Strait to the Asian side of Istanbul sailing past the old city's iconic attractions like Hagia Sophia, Topkapi Palace and the Blue Mosque. In less than 20 minutes, we have reached Kadıköy. The first thing I noticed was the place had a fewer tourists compared to the European side and it has that youthful vibe. According to Taci, the neighbourhood of Kadıköy-Moda used to be more of a residential area. But over the past few years, it has transformed into a bustling district where cultural hotspots and entertainment venues coexist. If I ever get to live in Istanbul, I would love to hangout in Kadıköy every day!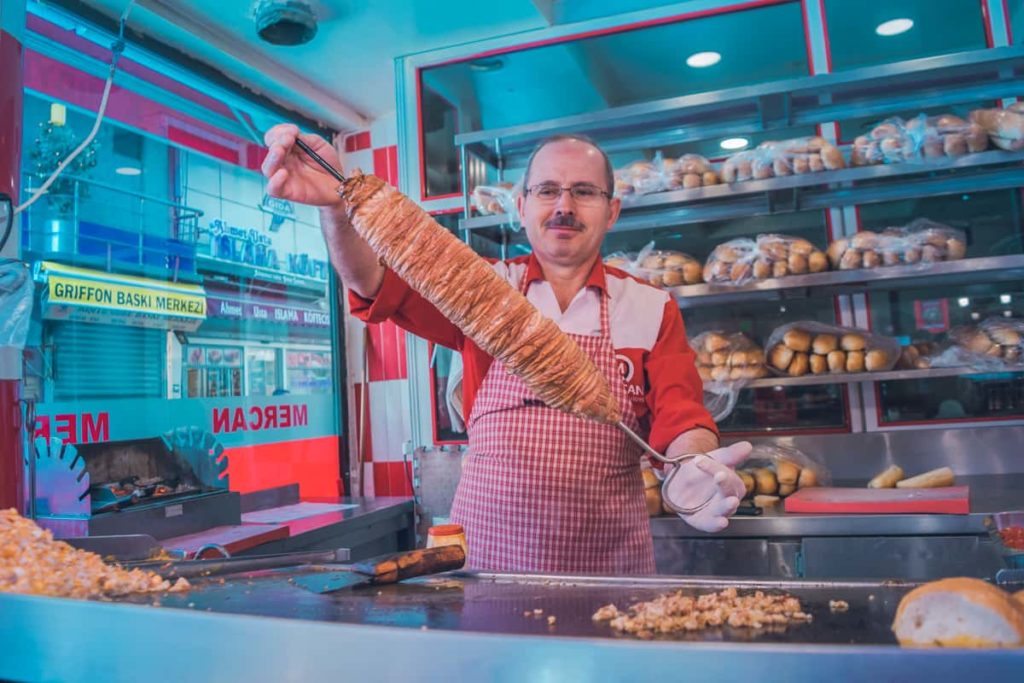 Part 3: Çiya Sofrası Restaurant
The grand finale of our food tour in Istanbul was an epic gourmet lunch at Ciya Sofrasi (Çiya Sofrası), which is possibly the best lokantası in Istanbul according to Taci. The restaurant is best known for its unusual regional dishes which cannot be found elsewhere in the city. The owner-chef and food anthropologist, Musa Dağdeviren, gathers recipes from around Turkey and adds them to his restaurants menu which follow the seasons strictly. His commitment is to revive the almost-forgotten dishes of various regions in Turkey and produce food that will remind Istanbulites of their mothers' home-cooked dishes.
*lokantası means restaurants for shopkeepers and tradesmen. It is where the locals go for fast, fresh home-style cooking and laid-back atmosphere.
When we at last arrived at Ciya Sofrasi (Çiya Sofrası), big hot pots, colourful meals, freshest salads and obscure vegetables and herbs welcomed us. It was a true feast for the senses! Taci led us to our designated table then showed us around to meet the cooks and assistants. We had the chance to watch a chef roll out the dough for our lavash bread and see it puff up hugely in the wood-fired oven. When we went back to our table, Musa Dağdeviren showed up unexpectedly. Taci was also surprised because she has not seen him in years! I guess luck was on our side that day. 🙂
*Lavash is a soft, unleavened bread usually served with an appetizer (Meze) in restaurants throughout Turkey.
Taci introduced us to the Master Chef and told him we were from the Philippines. He was quite surprised because Filipino tourists in Turkey are pretty uncommon. Although he could not speak in English, we really felt his warm welcome. After that short introduction, we sat down and our Meze plates started to arrive while Taci described each dish to us.
Here are some of the Meze (starters) and dishes we tried and definitely enjoyed.
We had the spicy but flavourful dish of bulgur, Dolmas (stuffed dried aubergines), Muhammara (red pepper paste), Lahmacun (Turkish pizza), humus, eggplant salad, dried okra with chickpeas, and Kabak Tatlısı (Turkish pumpkin dessert). Though the variety of Meze was daunting, everything we ate was delicious and satisfying. That lunch in Ciya Sofrasi (Çiya Sofrası) was one of the best meals I've had in Turkey. I'm confident to say that Ciya Sofrasi (Çiya Sofrası) was really one of the best restaurants in Istanbul. Without a doubt, I would certainly dine in this restaurant again when I return to Turkey.
Overall Experience
Joining the Spice Bazaar and Kadikoy Food Market Tour by Turkish Flavours was one of the best decisions I have made on my 11-day journey in Turkey. This food tour in Istanbul definitely helped me understand Turkish culinary traditions while sampling so many incredible dishes I would never have been able to try on my own. I have fallen in love with Istanbul's unassuming culinary scene and so will you. My only regret was that I should have joined this food tour by Turkish Flavours sooner. True enough, there is no better way to get to know a place than through its food.
About Turkish Flavours
Turkish Flavours was founded by Selin Rozanes in 2006 after her long career in the travel industry. She was one of the first to lead culinary walking tours around Istanbul and Turkey before food tours have been a popular thing for tourists to do. With her vast knowledge about Turkish Cuisine, she designed a perfect cultural sightseeing and the best culinary itineraries for travellers. Today, Turkish Flavours is one of the leading food tours and cooking classes in Istanbul.
Turkish Flavours
Official Website: https://www.turkishflavours.com/
Link to this Food Tour: Spice Bazaar and Kadikoy Food Market Tour
Email Address: turkishflavours@gmail.com or selin@turkishflavours.com
Phone Number: +90 532 218 06 53
Check out my Turkey Travel Guide to help you plan your dream Turkey vacation!
Disclaimer: Turkish Flavours generously provided a discounted food tour on my trip. As always, all opinions are my own.
How about you? Have you tried joining a food tour on your travels? How was your experience? Let's chat down below!
First Published: June 7, 2018