Korean Barbecue is one of my absolute favorites that's why I eat it at least twice a month. With multiple joints popping up all over the metro, I had to constantly venture out to find the best Korean BBQ place near me. One restaurant that captured my attention was Romantic Baboy, a newly-established unlimited Korean BBQ restaurant in Quezon City.
COVID-19 Update
All Romantic Baboy branches strictly implement thermal scanning of all persons, a "no face mask, no entry" policy and social distancing measures. They also offer ready-to-grill samgyupsal and side dishes for those who would like to enjoy Korean barbecue at home.
About Romantic Baboy
Romantic Baboy opened its doors to the public last January 19, 2018, with its first branch at Tomas Morato. They're one of the first Korean barbecue restaurants to offer unlimited pork and beef with cheese.
I asked the owner how he would say that their restaurant is different from others. He answered that they adopted an authentic modern-style Korean barbecue place with their own meat cuts and recipes. They wanted a place that will appeal to Filipino customers so they named it "Romantic Baboy" instead of the usual Korean restaurant names.
In just a few weeks after opening, Romantic Baboy became very famous because of their unlimited pork and beef with cheese for only 499 pesos. Not only that, they also offer a no-time-limit-policy! Sulit na sulit? Definitely!
Restaurant Ambiance
Romantic Baboy has a modern Korean ambiance. Entering the glass door opens up to a room with black wooden chairs and tables, personalized grill with Romantic Baboy's logo, wall design with Hangul. It was an interior that feels inviting. And because Filipinos are going gaga over anything Korean (KPop and Drama), the gigantic HD TV playing KPop songs was a nice addition.
The Banchan
Like any other Korean barbecue experience, we automatically received tiny bowls of side dishes delivered to our table. They're called banchan. Depending on the restaurant, the amount of banchan you'll get varies, but in Romantic Baboy, we got 6 side dishes – Kimchi, Coleslaw, Scallion Salad, Stir-fried Fish Cakes, Fried Chicken and Jap Chae (Korean glass noodle stir fry). If you're a group, these side dishes won't be enough so you can always ask for more. They're free.
Unlimited rice and Gochujang Jjigae (sweet-and-spicy fermented red pepper soup) and unlimited green ice lettuce, which we used for our traditional Korean BBQ wrap, were also provided. And of course, it won't be a complete Korean barbecue experience without the Ssamjang (thick, spicy paste made from fermented bean), sesame oil, salt and pepper sauce.
Want to eat like Weightlifting Fairy Kim Bok Joo?
If it's your first time to eat samgyupsal, don't eat too much rice or else you will get full early. Eat the grilled meat first then the marinated grilled meat next. Of course you have to make your lettuce wrap with ssamjang to get the full experience. You may also add some grilled garlic and kimchi. When you're getting a bit full, order the must-have, rice! Finally, cleanse your palate with cold noodles.
The Meats
Unlike the usual Korean barbecue restaurant which offers samgyupsal without seasoning or marinating, Romantic Baboy offers 8 types of pork and beef with their special herbs and spices. Made specially for Filipino palate, each type of pork and beef hits all the right things – a touch of spice, salt and sugar. Although the meats were marinated, they went so well with the side dishes. Personally, I loved the Spicy Beef, Curry Beef and Moksal.
8 Types of Pork and Beef:
1. Herb Samgyupsal – pork belly with herbs
2. Woo Samgyup – moderately thin sliced pork belly
3. Moksal – neck meat commonly known as pork chop
4. Daepae Samgyupsal – thin sliced pork belly similar to bacon
5. YangyumGalbi – marinated beef short rib
6. Romantic Bulgogi – traditional Korean marinated grilled beef
7. Spicy Beef – thinly sliced beef marinated with Korean spices
8. Curry Beef – thinly sliced beef marinated with Curry powder and other spices
Additional New Menus:
1. Smokey Duck
2. Smokey Samgyupsal
3. Smokey Chicken
4. LA Galbi
5. Crazy Buldak Chicken
6. Tteokgalbi
7. Cheese Scallop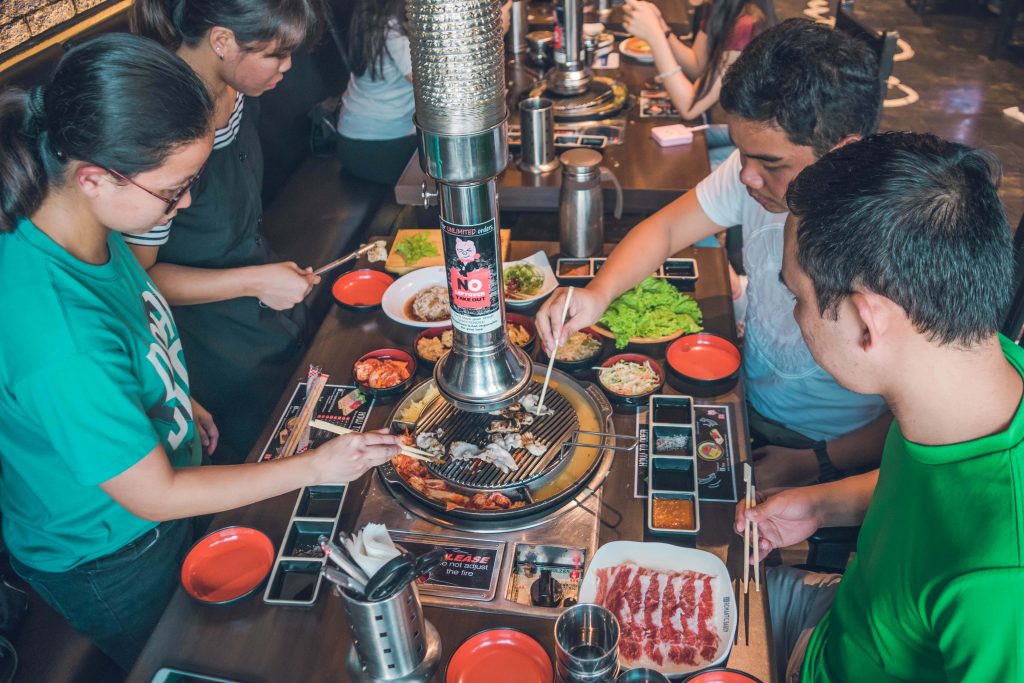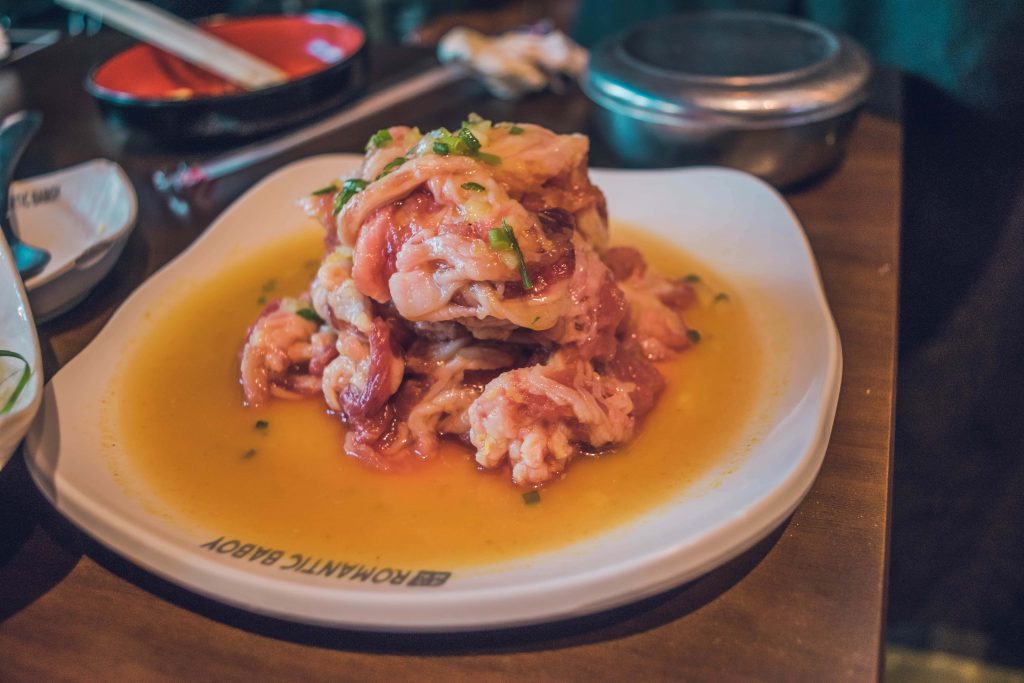 Overall Experience
Unlimited pork and beef with lots of gooey cheese for only 499 pesos plus no-time-limit policy? Romantic Baboy for the win! Although it has gain a reputation for long queues that can last for hours, the owners successfully opened other branches to manage the demand. They have also implemented an efficient queueing system to manage the entry of the customers. Overall, this restaurant has been my go-to place whenever I'm craving for Korean BBQ.
Useful Info
Email Address: rtbaboy@gmail.com
Hours of Operation: 11:00 AM to 2:00 AM (every day)
Branches
Main Branch Address: CKB Centre, Tomas Morato Avenue Corner Scout Rallos Street, Laging Handa, Quezon City
Antipolo Branch Xentro Mall, Antipolo, Rizal Fairview Branch
Upper Ground U073 Fairview Terraces, Ayalamall (02) 799 4657 Centris Branch
Centris Walk (Behind Yang Chow), Eton Centris, Quezon Avenue, Quezon City (02) 729 4238 Don Antonio Branch
The Rock Lifestyle Hub, 2nd floor. Holy Spirit Drive, Batasan Hills, Quezon City 0977 162 0329
Timog Ave. Branch
Ground Fl. Caswynn Tower, Timog Ave, Quezon City (02) 374 7948
Sta. Rosa, Laguna Branch
Solenad1, Sta. Rosa, Nuvali 0956 557 6281
Banawe Branch
625 NS Amoranto corner Palali 2nd floor, Quezon City (02) 756 9409
Mandaluyong Branch
Ground Fl. SMDC Light Mall, MRT Boni Station, Mandaluyong Globe: 0926 731 9815 Smart :0939 180 7779
San Juan Branch
2Fl. G-Square, Greenhills, Wilson, San Juan 0967 206 9570
Congressional Ave. Branch
#23 Ground Fl. Congressional Town Center, Congressional Ave West, Quezon City 0927 1558 073
Ortigas Branch
Ground Fl. Ortigas Home Depot, Dona Julia Vargas Ave, Pasig 0999 871 7121
BF Homes Branch
#319 Aguirre Ave. BF Homes, Paranaque 0915 027 0942
Subic Branch
The block 47 Center, Rizal Highway, SBFZ, beside lyceum 0921 323 9504
Bacoor Branch
Zem Commercial Center, Talaba, Bacoor, Cavite 0956 614 5735
SM North Branch
Epifanio de los Santos Ave, SM City North EDSA (02) 374 7948
Marikina Branch
Marikina Heights Ayalamall, Liwasang Kalayaan, Marikina (02) 374 7948
Cubao Branch
Alimall Cubao, P.Tuazon Boulevard, Cubao (02) 294 6754
UP Town Center Branch
UP Town Center, Quezon City 0956 729 3223
Batangas Branch
Grovepark Commercial Center, 2nd Flr Jp Laurel Highway, Barangay Santiago Malvar, Batangas 0956 162 8551
Mindanao Ave. Branch
Brittany Sqaure, Mindanao Ave. Novaliches, Fairview, Quezon City
Have you tried Romantic Baboy? Let me know what you think in the comment section below!
Planning a staycation in Quezon City? Check out my favorite hotels below!
The Cocoon Boutique Hotel
61 Scout Rallos St, cor Sct. Tobias St, Diliman, Quezon City, 1103, Philippines
Check Rates and Availability
Novotel Manila Araneta Center
Gen Aguinaldo Avenue, Araneta Center, Quezon City, Luzon 0810, Philippines
Check Rates and Availability
Red Planet Quezon Timog
100 Timog Avenue, Barangay Sacred Heart, Quezon City, Luzon 1103, Philippines
Check Rates and Availability
B Hotel Quezon City
14 Scout Rallos Street, Barangay Laging Handa, South Triangle, Quezon City, Luzon, Philippines
Check Rates and Availability
Meranti Hotel
82 Scout Castor, Bgy. Laging Handa, Quezon City, Luzon 1103, Philippines
Check Rates and Availability
First Published: August 8, 2018