Ulot River is the longest river in Samar nestled within the Samar Island Natural Park (SINP). It not only boasts incredible biodiversity but it is also well-known for exciting water adventure. Located in Paranas, just two-hour drive away from Tacloban City, the river offers extreme downstream and upstream river boating adventure called TORPEDO Extreme Boat Adventure. The boats used in the river, called Torpedo, is designed to cut through the river and to navigate the wild waters.
Coincidentally, the name of the association that operates this extreme adventure is also called TORPEDO, which stands for Tenani Boat Operators for River Protection and Environmental Development Organization. It's such a long name for an association but whatever. It sounded astig!
About TORPEDO Extreme Boat Adventure
Since Torpedo started its operation in 2008, it provided the residents of the community surrounding the river with alternative source of livelihood. It also gradually addresses problem on illegal logging. When we talked to the members of the community in Ulot River, we learned about all the struggles they faced just to be where they are now. It required extensive work from the local community and the LGU. It was heartwarming to see how the former timber poachers now find the value of the biodiversity around them.
From Illegal Logging and Poaching to Tourism
Before Extreme Torpedo Boat Ride started, the locals living around Ulot River did illegal logging and poaching. According to Mr. Eugene Igdalino, the President of TORPEDO, they knew that it was illegal, but it was the only, sure way to get money to buy food and other necessities for their families. For Eugene and other members of the community, it was not about profit but all about survival.
The Department of Environment and Natural Resources (DENR) identified Ulot River as a possible Ecotourism Destination. Along with other government agencies, Department of Tourism (DoT) and Department of Transportation (DOT), Provincial Government of Samar, and non-government organizations (NGO) like Lingkod-Kapamilya of ABS-CBN, they organized a project that equipped local poachers, illegal loggers and their families in sustainable ecotourism and conservation management.
Women Empowerment through Tourism
Just when I thought that Samar Island Natural Park (SINP) is dominated by men, we were introduced to the women of the community. Their association is called Tenani Association for Women and Development (TAWAD), which are composed mainly of wives of the TORPEDO Boatmen. Their primary responsibility is the Paranas Eco-trail and Birding Site. To empower the women and to provide additional sustainable livelihood to the community, the late Philippine eco-warrior, Ms. Gina Lopez, established this project through Bantay-Kalikasan of ABS-CBN Foundation, in partnership with the DENR and DOT.
Ms. Elizabeth Doza, President of TAWAD commented, "The housewives of the boatmen stayed at home and exchanged gossips when we were done with household chores before. Now I'm an officer. I participate in meetings, make decisions and contribute financially to the family."
My Ulot River Experience
I actually don't know how extreme the boat ride will be because I haven't tried any boat adventures yet until that day. I was a bit hesitant to do this activity because I'm scared of swimming in the river. Good thing, the guides of Torpedo made me feel safe. According to my friends from TPB, the boat ride is pretty leisurely in comparison with White Water Rafting in Cagayan de Oro.
As for me, though, I found it very thrilling and exciting. As we went downstream, the boat sped up gradually until we passed by some rocks and ledges. The exciting parts were when we pass thru a series of wild rapids while the boat cut through the water like a torpedo. Seriously, I was like a hyper kid on a rollercoaster lol!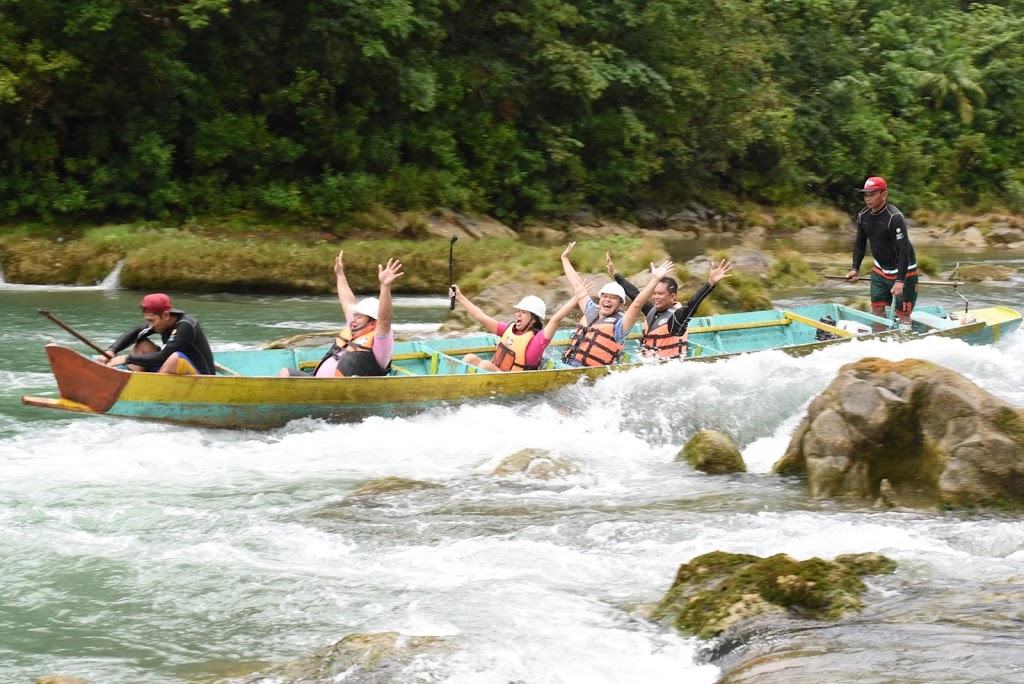 But the most thrilling part would be Deni's Point, the end of the 10 kilometre route where the river splits into small waterfalls. Here I was challenged to jump. I was scared but I still jumped off. I was swept along by the strong current until I reached the rope to go back to the riverbanks. It was exciting to get carried away by the bubbling current. It actually felt like I was inside a washing machine. Haha!
Overall Experience
I was inspired from what I learned about river conservation from locals along Ulot River and felt really blessed to know their stories. It was fascinating to see a community working closely with various sectors of the government and other NGOs . I feel honored to meet Mr. Eugene Igdalino and the other members of TORPEDO and TAWAD, who dedicate their lives not just for the survival of their family but also the protection of the forests and rivers of Samar Island Natural Park.
Will the generations beyond ours see the birds, run through the forest, swim in clean Ulot River? I don't know the answer to that. But I do know that every little effort the community and the government put out will make a difference. And that applies to us, tourists as well.
Travel Notes
The TORPEDO Extreme Boat Adventure costs 2,325 pesos per boat for a 2 hour downstream and upstream ride. This rate is good for up to 5 people so you only pay about 465 pesos each.
How to get to Ulot River: From downtown Tacloban, take a van going to Catbalogan. Travel time is about 1.5 to 2 hours and one way fare is 150 pesos. Get off at Buray Junction and take a tricycle to Ulot River Jump-off Point. Travel time is about 30 minutes and one way tricycle fare is about 300 pesos.
Facebook Page: @TorpedoBoat
Contact Numbers: 0956-887-7710 or 0926-702-0590
Is TORPEDO Extreme Boat Adventure dangerous?
There are of course risks, but the activity as a whole is safe. There is a safety briefing before the start of the activity, so it is imperative to listen closely. You'll be required to wear life vest all throughout so drowning is unlikely. Remember that you will be with experienced boatmen so don't panic and just enjoy the ride. Unlike White Water Rafting, this boat adventure do not require paddling from tourists. The boatmen do that for you through the the boat's engine and rudder.
What to bring?
Rash guard or swimsuit with a pair of quick-drying shorts
Towel and extra clothes for after your Torpedo Extreme Boat Adventure
Waterproof sunscreen
Aqua shoes or sandals with secure straps
Waterproof camera
Dry bag for your important belongings
Ulot River in Paranas, Samar was the last stop of the Sustainable Community-Based Tourism Recognition (SCBTR), launched recently by the Tourism Promotions Board (TPB), the marketing arm of the Department of Tourism (DoT).
First Published: November 12, 2019